Annyeong!
did you know that a rookies boy group named iKON will come to our country? oh lupa sebelum tu korang tau ke siapa iKON? haha ye la tak semua readers aku ni a kpop fans kan so korang peduli apa.
so here is sedikit informasi tentang iKON yang aku dapat from Wikipedia:
iKON (Hangul:

아이콘

) is a South Korean boy band formed in 2015 by YG Entertainment. The group was first introduced in the reality survival program called "Who is Next: WIN" as "Team B." Team B and their adversaries Team A known as "WINNER" now were both formed from trainees within YG Entertainment. The two teams are friends but they competed against each other in order to debut as the first YG boy K-Pop group in eight years, after Big Bang. The group's seven members are B.I, Bobby, Kim Jinhwan, Koo Junhoe, Song Yunhyeong, Kim Donghyuk and Jung Chanwoo.According to YG CEO Yang Hyun Suk, the "C" in "ICON" was replaced with a "K" because he wanted them to become an 'icon' for Korea.[1]Although iKON made their official debut in 2015, the members were well known as Team B pre-debut due to the survival shows "Win: Who Is Next" which was aired in 2013 and "Mix & Match" which was aired in 2014. The group made their official Korean debut on the 15th of September 2015 through the digital release of their first single "My Type" from their first studio album Welcome Back and made their first debut broadcast on the 4th of October 2015 on SBS's Inkigayo.
diorang ni tak sampai setahun pun lagi debut thats why ramai yang tak kenal. aku boleh cakap yang most of their fans come from those who watched that survival shows "WIN: Who is Next" and "Mix & Match" tapi aku tak tengok pun show WIN tu. terus tengok Mix & Match. aku tau wujudnya show tu pun sebab ada orang retweet pasal show tu kat Twitter so aku pun tengokla. aku ni tak tengok sangat korean shows or drama, so kalau aku rasa nak tengok then aku akan tengok sampai habis.
what can I say, survival show tu sangatlah sedih and korang akan tahu betapa struggle nya diorang to debut as an idol. CEO YG Ent bagi aku dia ni seorang yang cerewet sikit. dia ni semua produk dia paling hebat, paling menyerlah dalam industri kpop. yeah, now they did it! dalam group ni aku paling suka Hanbin la or well-known as B.I. he is the leader in the group. dia la paling gigih, paling berkarisma dalam iKON tu. members lain pun tak kurang hebatnya. okay tetiba fangirl mode aku dah ON. sorreyhh
back to the title of this entry, YES they will come to Kuala Lumpur on 13th August 2016, Saturday!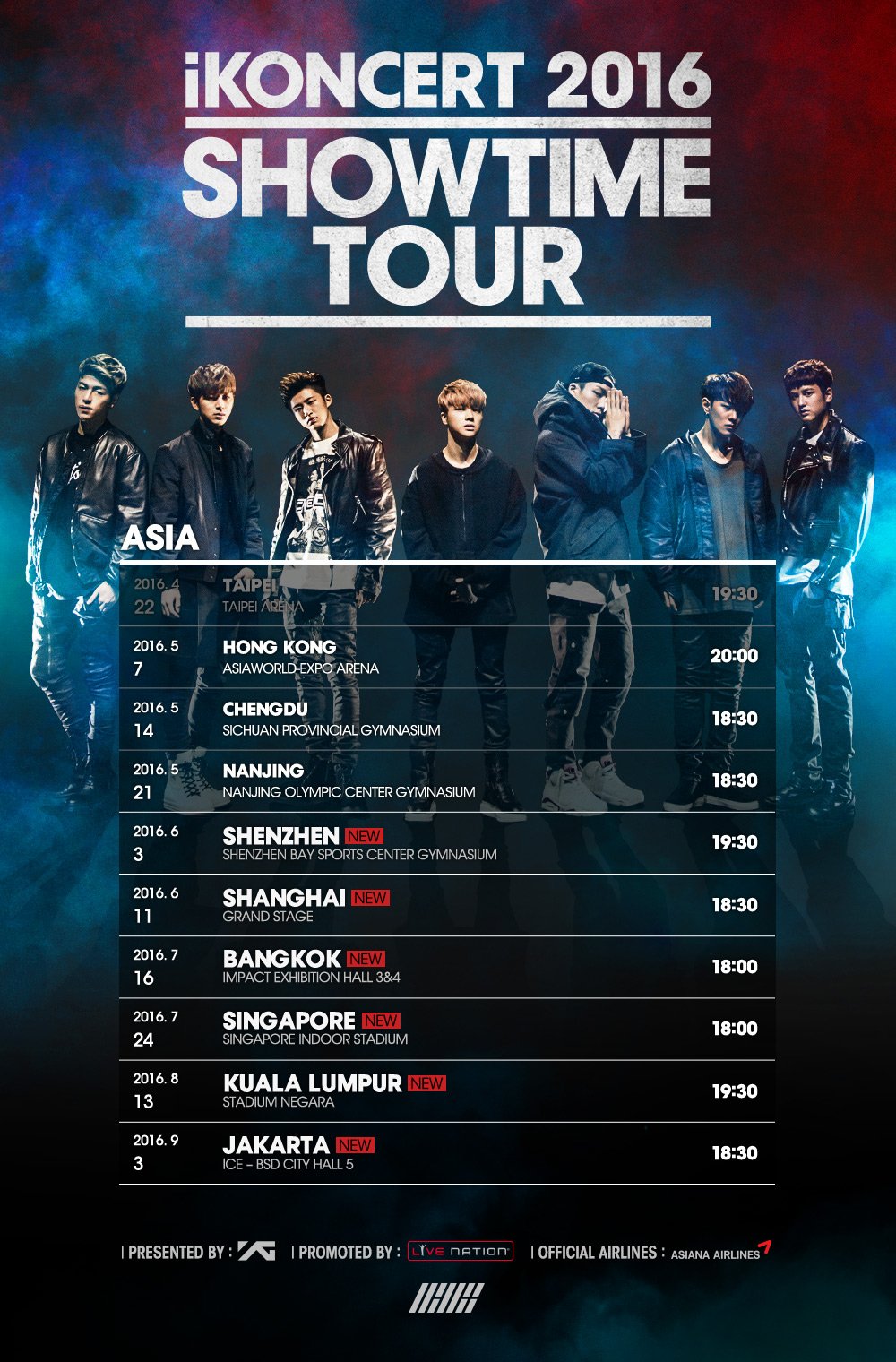 aku nak pergi tapi aku tak boleh confirm lagi sbb aku taktau aku nanti sambung belajar kat mana, pastu masa tu taktau lagi ada kelas ke, cuti ke tak, banyak assignment kena buat ke semua aku taktau lagi. tengok calender memang takde apa cuti pun. just weekend macam biasa. tapi, aku decide nak beli ticket dulu. either VIP or Rockzone kot (?) bila diorang dah mula jual tiket nanti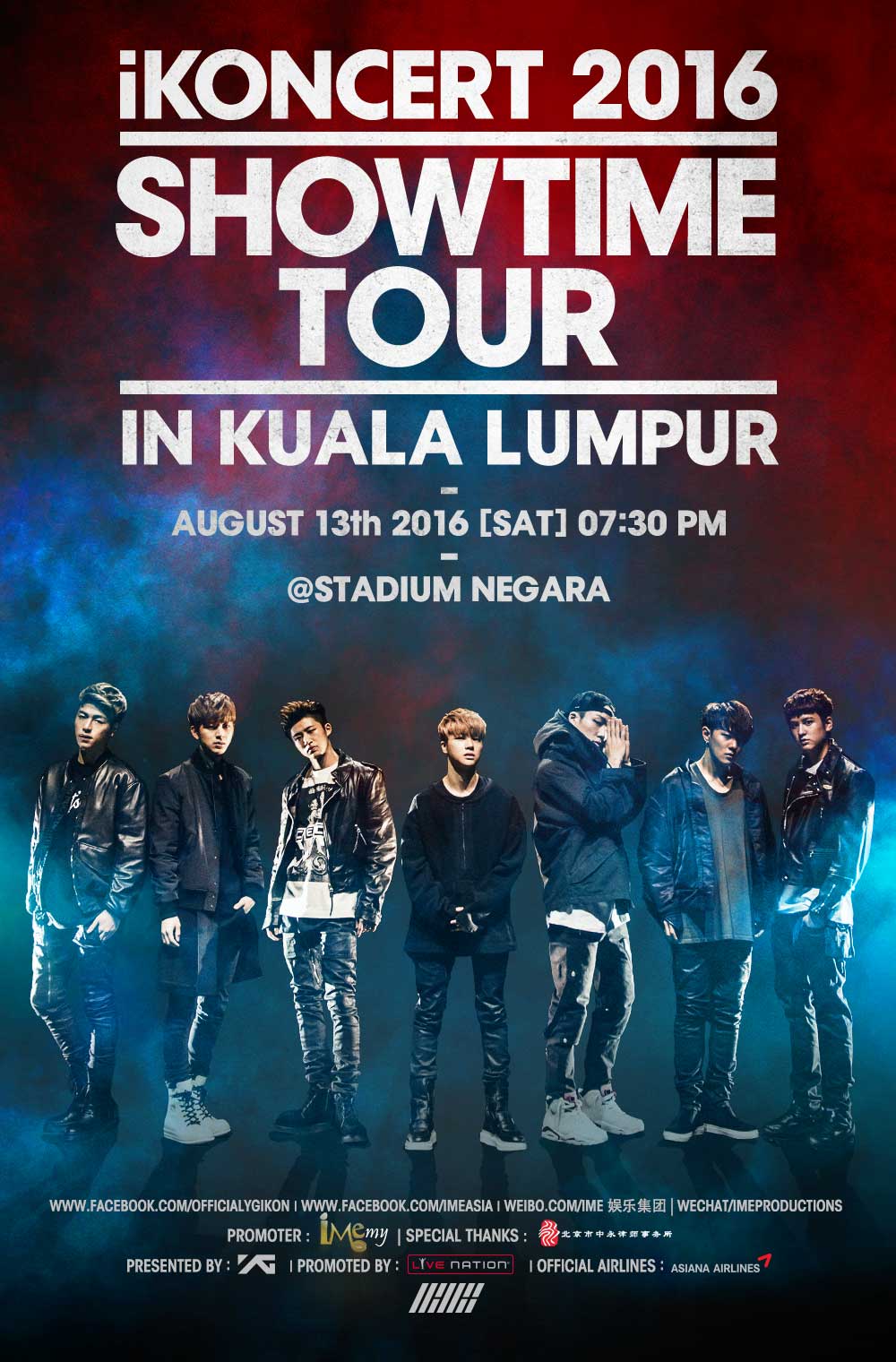 harga ticket aku expect mahal gila sbb YG concert kan, tengok-tengok lebih kurang je dengan harga masa aku pergi INFINITE 1st World Tour "One Great Step". VIP seat pun lagi murah dari harga ticket EXOluXion hari tu. concert EXO haritu harga paling tinggi sampai RM 600 lebih. pehh lari bajet aku tp memang aku taknak pergi pun concert EXO haritu huhu
pastu kan mujur diorang buat dekat Stadium Negara so aku dah tahu kat mana and boleh bayang seating plan macam mana plus stadium ni tertutup. kalau buat dekat Stadium Merdeka aku tak suka sebab stadium tu outdoor and entah, bagi aku tak best buat kat situ lol >.<
lastly, organizer for iKON concert ni sama macam INFINITE OGSMY punya organizer iaitu IME Production. so aku ada kepercayaan terhadap diorang yg diorang boleh handle event dengan baik tp security diorang sangatlah ketat. itu yang risau nanti mesti tak boleh nak rakam performance sangat -__-
cakap pasal organizer ni kan, aku kecewa jugakla dgn pihak IME Production ni sebab masa INFINITE buat 2nd World Tour "Infinite Effect" haritu, fansite INFINITE ada buat permohonan nak suruh diorang bawak dtg INFINITE for their 2nd World Tour tu, tp diorang tak approve. hmm mungkin sbb tak dapat bayar semahal iKON Concert ni kot huhu. apa-apa pun aku harap iKON will enjoy their visit to Malaysia. adiooooss!